Na co nam urozmaicony zespół superbohaterów, jeśli nie moglibyśmy zebrać znajomych we własnym zespole, by pokonać A.I.M.? Na szczęście w Marvel's Avengers dostępnych jest kilka trybów zapewniających graczom wspaniałe doświadczenia współpracy. Czy trzeba zapoznać się z wielką mapą, by odkryć więcej sprzętu i zwiększyć umiejętności jako określona postać, czy po prostu przyszedł czas na sianie zniszczenia jako sprawnie działająca drużyna superbohaterów, dobrze jest skorzystać z możliwości współpracy w Marvel's Avengers.
Współpraca

Gracze mogą tworzyć zespoły bohaterów z maksymalnie trojgiem znajomych, aby razem walczyć z A.I.M. na różnych mapach, stawiając czoła wielu zróżnicowanym wyzwaniom. Udaj się do Stółu Strategicznego na Helicarrierze Chimera, odrzutowcu Quinjet lub wypraw się do licznych bastionów, by znaleźć misje na całym świecie. Udział w misjach wymaga od każdej drużyny szerokiego zakresu umiejętności, więc nie jest możliwe używanie tej samej postaci przez kilkoro graczy. Trzeba wykorzystywać swoje mocne strony – od dostawania się na wysokie platformy dzięki rozciągliwości Kamali po strzelanie z podwójnych pistoletów Czarnej Wdowy do walki dystansowej. Załóżmy jednak, że w zespole są dwie osoby, które preferują Iron Mana – może jedna z nich zgodziłaby się przejść na Thora, ponieważ jego boskie moce umożliwiają graczom latanie po niebie przy pomocy młota Mjolnira.
Zdecydowanie zalecamy przy tym zapoznanie się ze wszystkimi Avengerami, zwłaszcza że misje bohaterskie skupiają się na poszczególnych postaciach. Nie trzeba się martwić, jeżeli drużyna nie jest pełna – sztuczna inteligencja gry uzupełni braki w każdym zespole. Bohaterowie kontrolowani komputerowo automatycznie korzystają ze spersonalizowanych przez gracza wersji każdego bohatera, aby nadać rozgrywce bardziej zindywidualizowany charakter. Oczywiście nie jest wymagane zaproszenie do misji wyłącznie swoich znajomych – system internetowego dopasowywania umożliwia dołączenie do zespołu także innym graczom. W żadnej z takich misji członkowie zespołu nie muszą konkurować ze sobą, to jednak nie oznacza, że bitwy nie stanowią wyzwania!
Strefy Wojenne

Czego więc mogą oczekiwać gracze w bitwie? W ramach współpracy gracze mogą wziąć udział w kilku różnych rodzajach misji w Strefach Wojennych, atakując A.I.M. Mniejsze, bezpośrednie misje są w Strefach Zrzutu – tam do osiągnięcia jest jeden cel, na przykład wsparcie grupy sprzymierzeńców S.H.I.E.L.D. lub zniszczenie laboratoriów i innych obiektów A.I.M. Najbardziej ekscytujące misje to jednak Skarbce. Po odkryciu kryjówek S.H.I.E.L.D. na całym świecie zespoły mogą eksplorować większe mapy dokładniej niż inne. Na rozległych polach walki na odkrycie przez graczy czekają skrzynie wypełnione sprzętem i ukryte zasoby. Poza możliwością uzupełnienia sprzętu, każdy z graczy może też znaleźć przedmioty do kolekcji, na przykład komiksy nawiązujące do najbardziej klasycznych i ikonicznych opowieści z ponad 80-letniej historii Marvela. Ze skrzyń można też wyciągnąć zasoby, które ulepszą poszczególne sprzęty dodawane przez graczy do postaci, by zwiększyć ich umiejętności.
Choć gra nie opiera przygody na otwartym świecie, eksploracja map Skarbców to świetna okazja do zajęcia się każdym bohaterem i sprawdzenia, jak można zmaksymalizować ich efektywność w walce. W poszczególnych strefach wojny do osiągnięcia jest wiele różnych celów i misji. Opór reprezentowany jest przez szereg frakcji na całym świecie, takich jak S.H.I.E.L.D. czy Inhumans. Misje frakcji liderów grup wyznaczają graczom nowe cele, co pomoże tym grupom zwiększyć zaopatrzenie podczas walki z A.I.M., dostępne nawet po zakończeniu głównej kampanii. Ikoniczne Misje opierają się na historiach o Avengerach, ich motywacji i osobistych problemach, przy jednoczesnym rozbijaniu armii robotycznych Adaptoidów A.I.M. w drobny mak, rzecz jasna. Gracze nagradzani są sprzętem odpowiednim do postaci i uzbrojeniem przydatnym w realizacji misji, więc jeśli ktoś ma ulubionego Avengera, warto wypatrywać zadań przeznaczonych dla niego.
Choć wszystkie misje w Strefie Wojennej może wypełnić pojedynczy gracz, w zespole łatwiej stawić czoła wyzwaniu, zwłaszcza jeśli chodzi o trudność poszczególnych etapów. Za wyniki w każdej misji stawiana jest ocena od jednej do pięciu gwiazdek. Za każdym razem, gdy gracz zostaje pokonany i trzeba go ożywić, traci gwiazdkę. W drużynie jednak trudniej jest wyeliminować gracza, ponieważ cały zespół skupia się na pokonaniu najgroźniejszych wrogów. Nie możesz osiągnąć któregoś z celów? Zbierz swoją drużynę.
Zbieranie się Avengerów

Jedną z największych zalet wspólnego grania jest połączenie ruchów bohaterów, zwłaszcza w obliczu mocniejszych wrogów, którzy są odporni na więcej szkód niż przeciętny dron. Skoordynowanie działań z innymi graczami przez czat głosowy to najlepszy sposób na przypuszczenie imponujących ataków wyglądających jak prosto z kart komiksu. Jeśli nie jest się stroną w starciu, można przyglądać się atakom stosowanym przez członków zespołu. Najprostszym sposobem współpracy jest ogłuszenie wrogów przez jednego z graczy, aby przygotować pole manewru dla ciągłych niszczycielskich ataków dystansowych drugiego członka zespołu. Dlaczego więc nie użyć intensywnego ataku "Piątka" Ms Marvel, by ogłuszyć przeciwnika, zanim członek zespołu odpali rakiety Iron Mana lub choćby jego laser z piersi, by całkowicie zniszczyć wroga?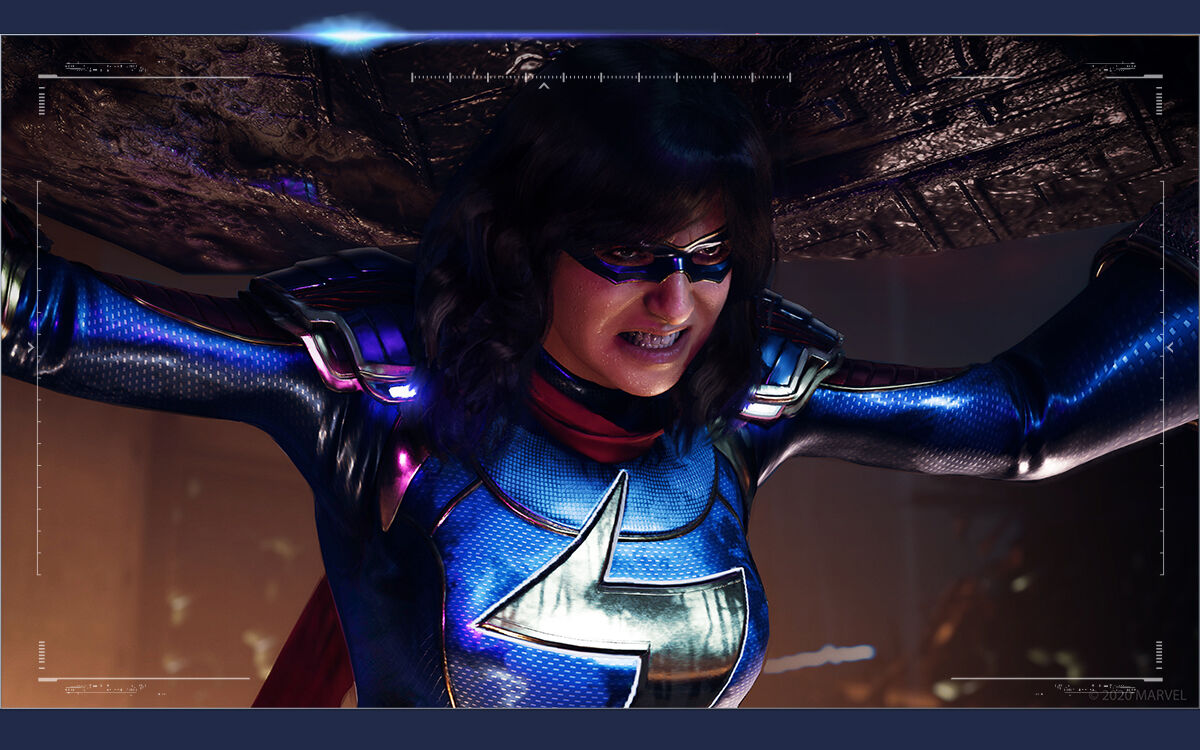 Skoro już mowa o Uzbrojonym Avengerze, gracze wiedzą już, że jego najlepsza zdolność pozwala wezwać na pole bitwy Hulkbustera, ale każdy gracz może wskoczyć w tego wspaniałego mecha. Przytrzymując L1 i R1/LB i RB spowoduje pojawienie się ikony wskazującej, gdzie wyląduje Hulkbuster. Dokładną lokalizację można wybrać z pomocą gałki. W tym punkcie każda postać może wskoczyć do wielkiej zmechanizowanej broni. W ten sposób łatwo postaci dodać mocy na określony czas. Gdy zespół stanie oko w oko z poważniejszym wrogiem, warto będzie wyposażyć na przykład Czarną Wdowę w kostium Hulkbustera, żeby zwiększyć nieco jej skuteczność w starciu z Adaptoidem.
Gra Marvel's Avengers jest już dostępna na PS4, Xbox One i Google Stadia PC. W przyszłości dostępna będzie na PS5 i Xbox Series X.
The post Na czym polega współpraca w 'Marvel's Avengers'? appeared first on FANDOM.