Wraz z nadejściem Marvel's Avengers postanowiliśmy przetestować tę nową grę przygodową autorstwa Square Enix i Crystal Dynamics i osobiście przekonać się, co sprawia, że jest to obowiązkowa pozycja dla fanów najpotężniejszych bohaterów na Ziemi. Różnorodni bohaterowie z rozmaitymi zdolnościami, hordy nowych czarnych charakterów oraz nikczemny spisek zagrażający bezpieczeństwu planety sprawią, że gracze będą musieli opanować wszystkie umiejętności herosów, jeśli mają uratować sytuację.
Fabuła
Podczas uroczystego otwarcia nowej siedziby tytułowych bohaterów w San Francisco, zostają oni zaatakowani przez perfidnego Taskmastera, a ich nowy Helicarrier eksploduje, dziesiątkując miasto. Nowy kryształ Terrigen zasilający lotniskowiec wyzwala falę tajemniczej energii odblokowującej ukryte zdolności u przypadkowych ludzi, których określa się mianem "nieludzi" (Inhumans). Skutkiem zdarzenia jest również zniknięcie Kapitana Ameryki, który zostaje uznany za martwego. Po tym, jak świat obarcza herosów winą za katastrofę i śmierć tysięcy osób, zespół rozpada się i odchodzi w cień, a superbohaterowie zostają wyjęci spod prawa. Pod ich nieobecność, tajemnicza nowa firma o nazwie Advanced Idea Mechanics (w skrócie AIM) zaczyna patrolować świat za pomocą dronów, eksperymentując na Inhumans. W tym momencie do akcji wkracza Kamala Khan. Jest odważną, młodą fanką superbohaterów, która dzięki kryształowi Terrigenu zdobyła kilka własnych umiejętności. Wiedziona przeczuciem, że AIM ukrywa coś na temat tzw. Dnia A, Kamala wyrusza w podróż, aby ponownie zjednoczyć zespół i sama zostać superbohaterką.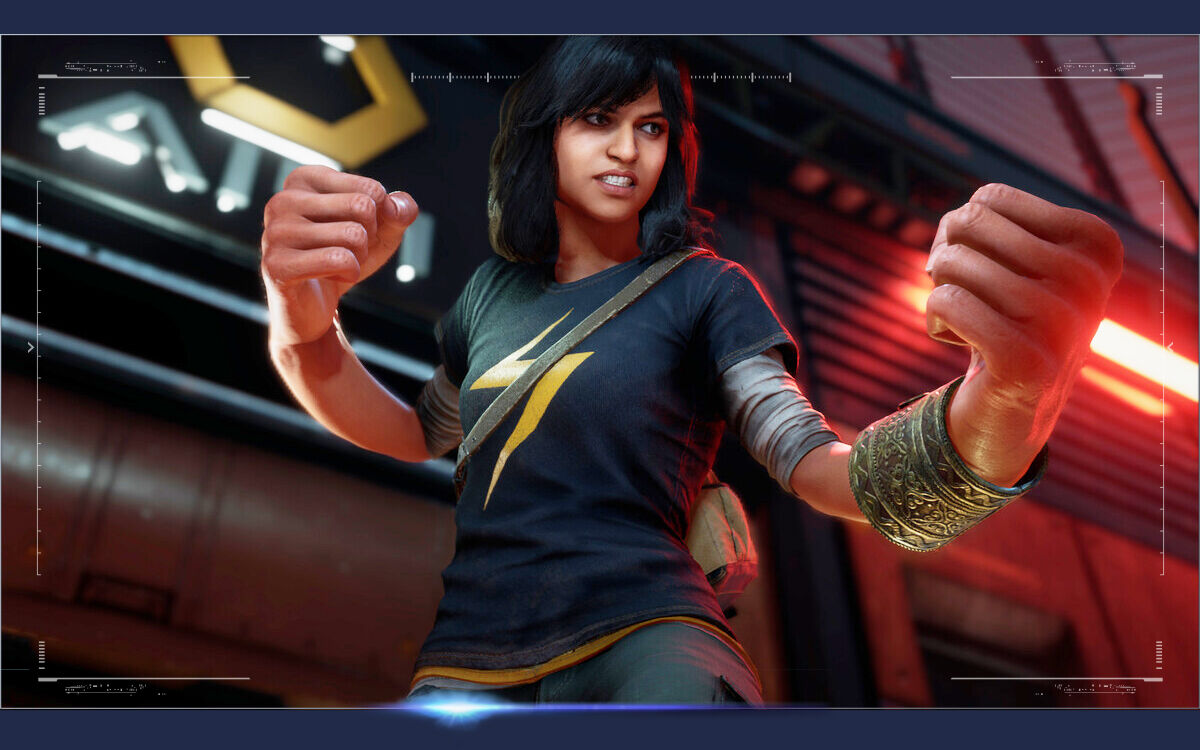 Heroiczny gameplay
Na co więc pozwala Marvel's Avengers graczom, gdy przeistaczają się w jednych z najbardziej kultowych superbohaterów, jakich kiedykolwiek wykreowano? Pomijając oczywiście użycie Thunderclap Hulka do rozbicia kilku dronów organizacji AIM czy rozwalanie obiektów za pomocą dalekosiężnych pocisków Iron Mana. Gracze najczęściej walczą na dużej, otwartej mapie, by dotrzeć do bazy AIM, gdzie złoczyńcy zwykle dokonują eksperymentów na nieludziach lub wykorzystują skradzioną technologię Starka do zasilania swoich najnowszych robotów. Chociaż nie jest to gra rozgrywana w otwartym świecie, mapy są znacznie większe, niż można by się spodziewać, więc gracze będą mieli dużo możliwości eksploracji nowych obszarów, aby odnaleźć coraz lepszy ekwipunek i inne przedmioty z modyfikatorami. Wokół kryje się mnóstwo skrzynek SHIELD, więc niekoniecznie trzeba od razu spieszyć się do celu, żeby rozwalić, zastrzelić lub spalić przeciwników, po drodze warto przyjrzeć się mapie.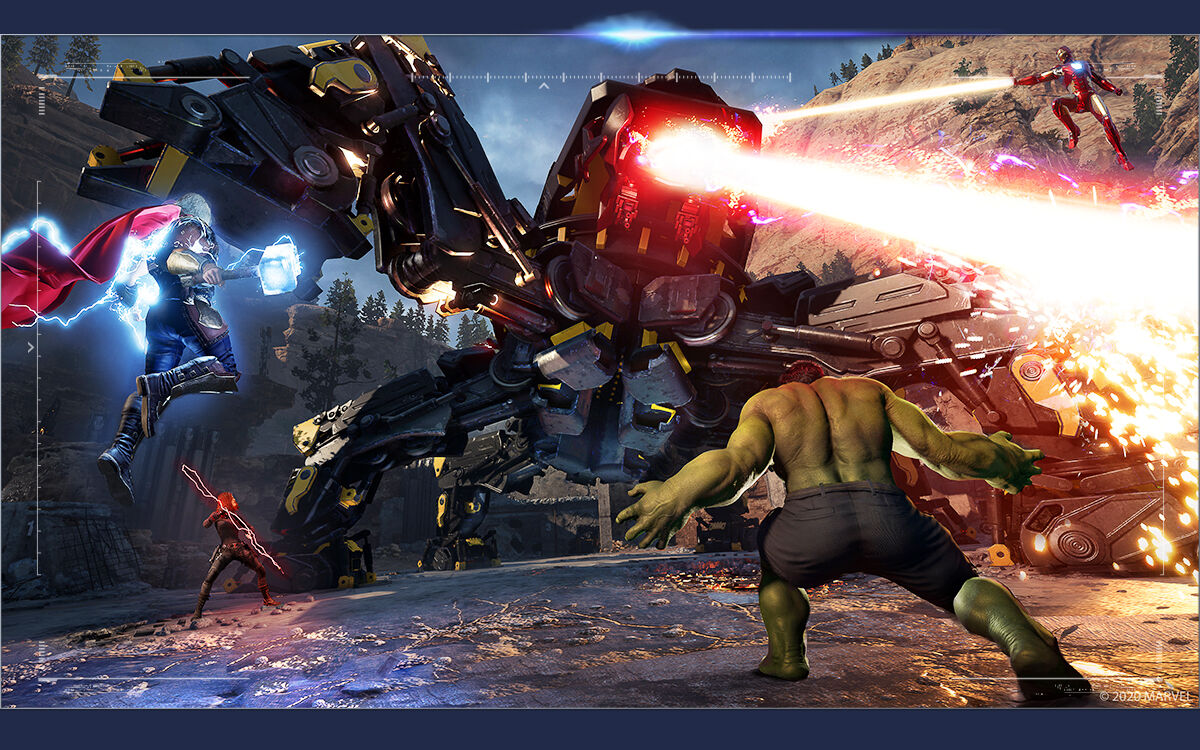 Odkrywając każdą nową lokację, gracz musi mierzyć się z kolejnymi wrogami, co daje większe szanse na przejście na wyższy poziom i zdobycie dodatkowych punktów umiejętności. Punkty umiejętności odblokowują nowe moce i ruchy superbohaterów, które na pewno przydadzą się w walce z większymi bossami, jak nemezis Hulka, Abominacja. Ponadto, gdy gracz opanuje szybki "atak ładowany z wyskoku", szybowanie ku niebu w jednym z pancerzy Iron Mana sprawia niesamowitą frajdę. Jest to również idealna droga ucieczki, gdy akcja staje się trochę za ostra, by sobie z nią poradzić – wystarczy wtedy wyskoczyć z akcji i wycofać się, żeby móc odeprzeć żołnierzy, drony (lub wszystkich naraz) pociskami dalekosiężnymi z bezpiecznej odległości.
Czasami jednak wycofanie się z akcji nie jest takie proste, jeśli wybrana przez Ciebie postać nie jest Thorem lub Iron Manem. Przywitajcie się z Kamalą Khan, znaną również jako Ms. Marvel. Superbohaterka wykorzystuje swoją rozciągliwość, by zadawać obrażenia oponentom w walce, lub za pomocą swoich gigantycznych rąk wgniata wrogów w ścianę i sieje spustoszenie kopnięciami i ciosami. Najmłodsza z herosów może też wykorzystywać wystające latarnie i poręcze do przemieszczania się po każdym obszarze, co jest kolejnym świetnym sposobem na eksplorację większych map. Najwyraźniej przez lata uczyła się od innych członków Avengers, zwłaszcza że jej Thunderclap jest podejrzanie podobny do tego, z którego znany jest Hulk. Jeśli chodzi o sprawne poruszanie się po mapie na mniejszych obszarach, które wymagają większej precyzji, jak turbiny czy platformy w koronach drzew, zdecydowanie przydaje się niezawodny chwyt Czarnej Wdowy. Jej podwójne pistolety i elektryzujące kombinacje ciosów w walce czynią z niej kolejnego niesamowitego członka zespołu.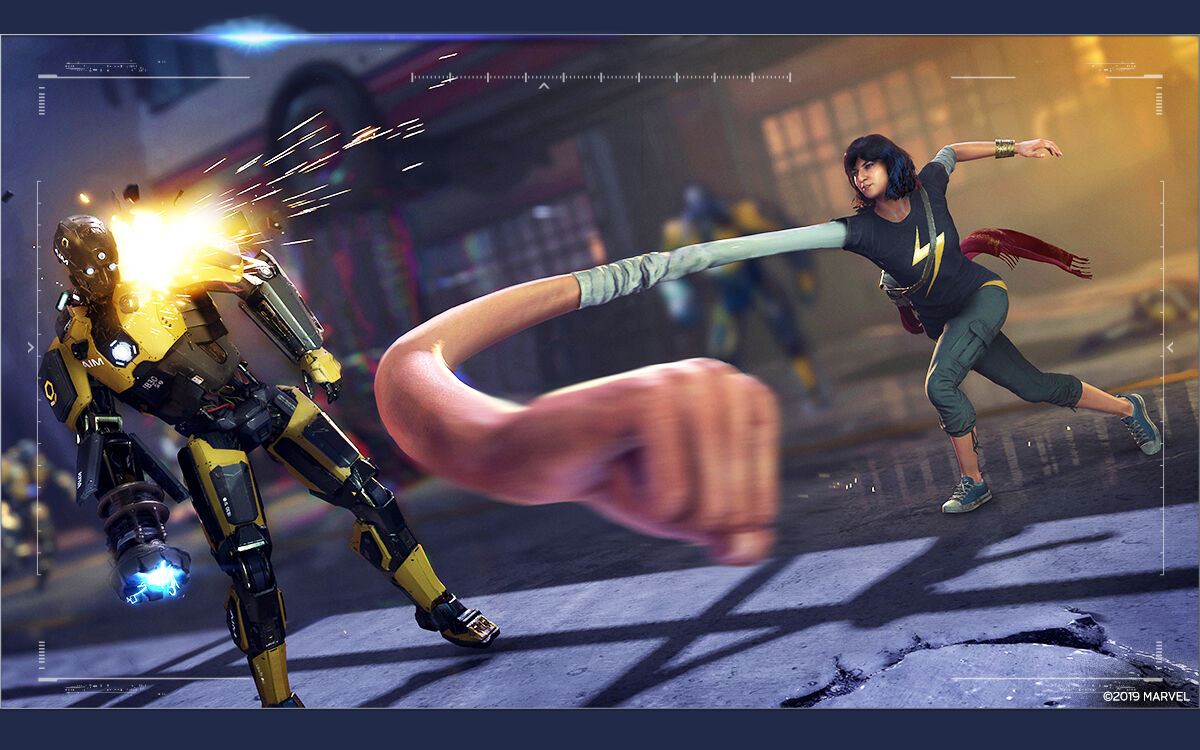 Strefy zrzutu
Jasne, misje rodem z kina akcji czy odkrywanie spisku wokół A-Day i zniknięcia Kapitana Ameryki są emocjonujące, ale czasami fajniej jest zebrać kilku znajomych i wkroczyć do akcji razem. Do tego celu najlepiej nadają się strefy zrzutu. Nie jest to wprawdzie typowa gra multiplayer, gdzie idzie się ramię w ramię z innymi graczami w ich własnych drużynach superbohaterów. Zamiast tego, każdy gracz wybiera bohatera z listy, aby przeskoczyć do większej mapy i podjąć walkę z AIM. Misja to czasami obrona konkretnego miejsca, podczas gdy Jarvis włamuje się do bazy, by zdobyć jakąś technologię, a innym razem agresywnie rozbija się elitarny oddział dronów, które też mają określone umiejętności i atuty, aby nieco utrudnić nam życie.
Niektórzy wrogowie dysponują bronią taką jak kriodrony, które zamrażają cię w krótkim czasie, podczas gdy inni mają moc teleportacji lub tarcze pod napięciem, które należy omijać. Stanowią one duże wyzwanie, ale współpracując z innymi graczami, można koordynować swoje ataki na całej mapie lub łączyć siły, żeby pokonać większych, zmechanizowanych przeciwników. Im trudniejsze wyzwanie, tym lepsze nagrody. Ponieważ misje w strefie zrzutu można powtarzać w kółko, pozwalają one graczom tworzyć rankingi bohaterów i w prosty sposób zdobywać zasoby potrzebne do ulepszenia ekwipunku.
Personalizacja i przedmioty kosmetyczne
Dzięki ogromnemu bogactwu historii z komiksów, z których można czerpać garściami, gracze są rozpieszczani szerokim wyborem skórek dla każdej postaci, upamiętniających niektóre z ich najbardziej kultowych kostiumów na przestrzeni 80 lat historii Marvela. Można je kupić w sklepiku lub odblokować w grze poprzez umieszczenie każdego bohatera wyżej w rankingu. Od kostiumu Hulka jako Joe Fixit po pancerz Iron Mana z "Grzechu pierworodnego", gracze mają do dyspozycji niezliczone możliwości personalizacji superbohaterów podczas walki z AIM. Grafika kostiumów jest niezwykle szczegółowa, a długoletni fani z pewnością będą mile zaskoczeni wysiłkiem, który włożono w przeniesienie bohaterów z komiksów na ekran. Bardzo ważne jest również, by stale ulepszać swój ekwipunek na przestrzeni całej fabuły, tak, by ruchy i poziom mocy postaci dawały przewagę nad przeciwnikiem. Każdej misji przypisany jest sugerowany poziom mocy, co powinno dać graczom wyobrażenie o czekającym ich wyzwaniu. Zdecydowanie warto też zwrócić uwagę na statystyki swojej postaci w menu personalizacji!
Gra Marvel's Avengers jest już dostępna na PS4, Xbox One i Google Stadia PC. W przyszłości gra trafi na PS5 i Xbox Series X.
The post Dlaczego Marvel's Avengers będzie Cię kręcić appeared first on FANDOM.